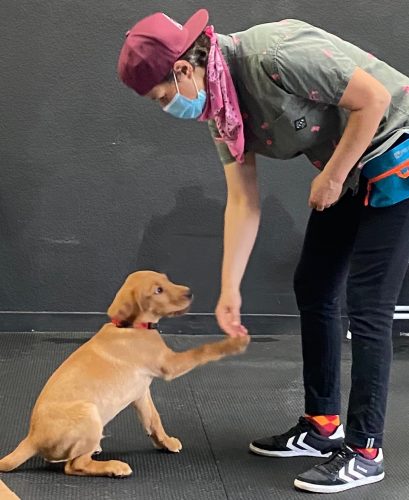 Leaning on the animal behavior theories of Positive Reinforcement, Patricia creates a fun and educative environment that provides owners with the tools they need to maintain consistency at home.
PRIVATE IN-HOME TRAINING FOR YOU & YOUR DOG
Safe, effective solutions during COVID-19. In-person private training sessions follow protocols that are in line with local, State, and Federal recommendations:
Initial consultations are completed in person.
Adhering to social distancing guidelines when working with you and your dog.
Facemasks worn when requested.
All equipment is sanitized before and directly following each session.
---
THE PROCESS:

Initial Consultation: $75

An initial consultation is arranged to gain a full understanding of your dog's behavioral issues and your training goals.
Initial consultations may last up to an hour.
A training plan is set to help you achieve those goals.

STANDARD TRAINING PACKAGES:

Single Sessions:
$50 each

A one-hour session with you and your dog to review a skill and/or discuss behavior issues.
Good for situations where you just need a little help or fine tuning.

4 Sessions Package: $200

Weekly one-hour sessions for 4 weeks with you and your pup.
This package is designed for you to expand on fundamental cues already learned, such as recall, polite leash walking, etc.
This package requires you to take all the tools from the training sessions and practice, practice, practice.

6 Sessions Package: $300

Weekly one-hour sessions for 6 weeks with you and your pup.
This package is designed for you to learn and expand on fundamental cues and some other helpful training cues, such as spot, spin, chill, etc.
As with all training packages, this also requires you to practice, practice, practice!

BOOKING AN APPOINTMENT: